Activities at Sadhana
Learners are active decision makers in what they do at the Sadhana Center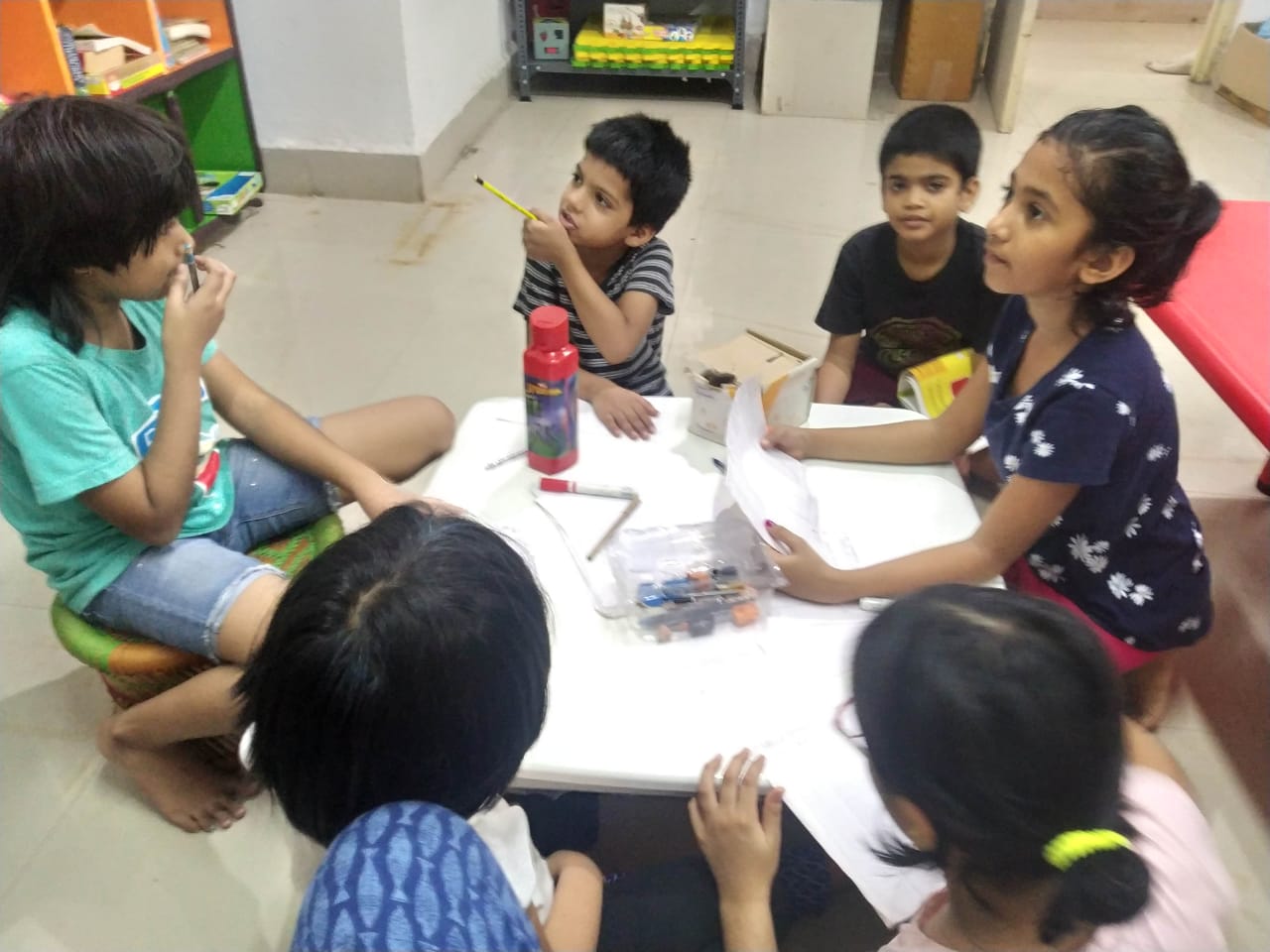 A Glimpse of Daily Activities
Cake making
After a lot of debate on which cake to be made (Orio cake and vanilla cake - Shortlisted) there was a poll. When we facilitators tried to keep ourselves away from the poll, strong disapproval was expressed. When asked, could there be a different and effective method? One of the learners proposing vanilla cake showed readiness to try the other flavour (which gave her opportunity to learn another method) and keep hers for the next turn. But the bakers of orio cake went on leave, so we all tried vanilla cake. One of the parents suggested use of coconut milk instead of routine one. Hence, the cake turned to be Vegan one.
Reflections
This weekend we tried to reflect on weeklong activities. What children liked, did not like, what could have been better. An interesting feedback was, 'Muze laga, hindi sesson mein bahut questions honge, isliye main kal aaya nahi. Par jab aap ne kaha, you missed me, toh muze bura laga' As facilitators we were so happy that a child could be so true and fearless with us. In reply, we told, 'there is no compulsion to attend any session. You can walk away until the session interests you. There is no need to remain absent.'
One of the learners is found to be enthusiastic during sessions and eager to answer to an extent that facilitators get disturbed. When this point was brought to that learner's notice, she could express her own mind and was also found to be open to interference by others in her sessions.
What we love about these discussions is everyone can be true to their feelings and needs and can express their minds, so also, are learning to take up the criticism.
Poetry
Rhyme and rhythm is so attractive. The poems we read give us so much pleasure. We feel poetry is not an ordinary person's cup of tea. This challenge was given and accepted by some members of LC. It was wonderful to see meaningful poetry coming rt from 6 year-olds to adults on different topics like Pet turtle, Walk through the Jungle, Dinosaur in car, a cat and (a very difficult topic like) Anger. Many of the children were seen absorbed and experimenting with different words.
Facilitator Led Sessions
As usual, Hindi word formation session was a big hit. A bit of geometry was explored in the form of lines, angles, triangles, experiments in finding properties of isosceles triangle. A few of the small ones are attracted to Fractions and are found asking for worksheets of Fraction addition and subtraction. For the big ones, concept of multiplication of fraction was introduced. The word problems based on logic, multiplication, division were solved in groups and also confirmed with hands on experiment.
Informal Games
Among different games and plays on and around jungle gym, wrestling matches, tug-o-wars and tyre games, we witnessed a new game (Spy game), a very well crafted and executed. The two teams participating, each takes a turn to gossip/talk, while other has to spy and spot who is talking what. If the second team guesses right, roles change If first team catches the spy beforehand, the difficulty level of the game increases. (e.g. in first level, windows are kept open, people talk aloud, in next levels, curtains are closed, followed by windows and talks become whispers)